The Night of the Arts briefly in English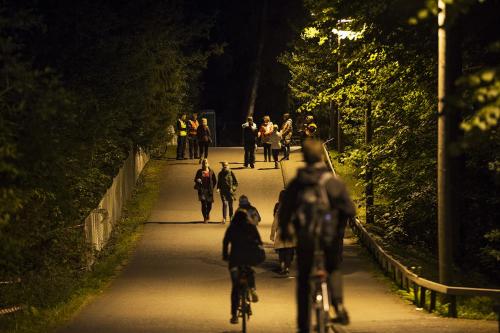 The Night of the Arts of Tuusula, held for the 24 st time on Friday 11th of August 2017, from 6 pm to 2 am, is a versatile art event. In the culturally significant landscape of the Tuusula shore road (Rantatie) and Kirkkotie, the event offers experiences for the whole family.
During the evening, venues along the six kilometres offer a wide variety of cultural experiences from literature to music and from visual arts to theatre and many other delightful surprises.
Tickets and information desk
The event ticket costs € and it gives you admission you to all events in all venues during The Night of the Arts. Children under 15 years of age have free admission to all events. Tickets can be purchased with cash only!
Ticket sale begins on the event day at 5.30 pm in the following places: Ainola, Erkkola, Halosenniemi, Krapi, the Lotta Museum, Onnela Inn, Tiilikanoja, TKKK, the Tuusula Church, Työläiskotimuseo, Vanha Kunnantalo and Gustavelund. Information desk can be found at Gustavelund (Kirkkotie 36) during the event
How to get there?
There are limited parking spaces reserved for cars near the event area and TKKK. We however recommend the use of public transportation. The nearest train stations are Kerava and Järvenpää, and you can continue to the event area by bus. There are also some direct bus lines to Rantatie and Kirkkotie for example from Helsinki.
The festival bus service (the "Taiteiden Yö" buses) runs all night in between Hyrylä main bus station, Kirkonkylä school, Vanha Kunnantalo and Järvenpää railway station. Ticket prices: over 12-year-olds 5 € 5, 6 to 12-year-olds € 2. Children under 6 years of age travel for free.
If you have any further questions, please, don't hesitate to ask!
tuusulantaiteidenyo(at)gmail.com